Photowalk in foggy and mysterious Paranapiacaba, Santo André, São Paulo, Brazil with Click a Pé
Do you want to photograph while enjoying your life, making friends, and discovering the world? I assume that yes, of course. So photowalks definitely can help you, and this photowalk organized by Click a Pé is a good example of that. Let's start with an imagination exercise…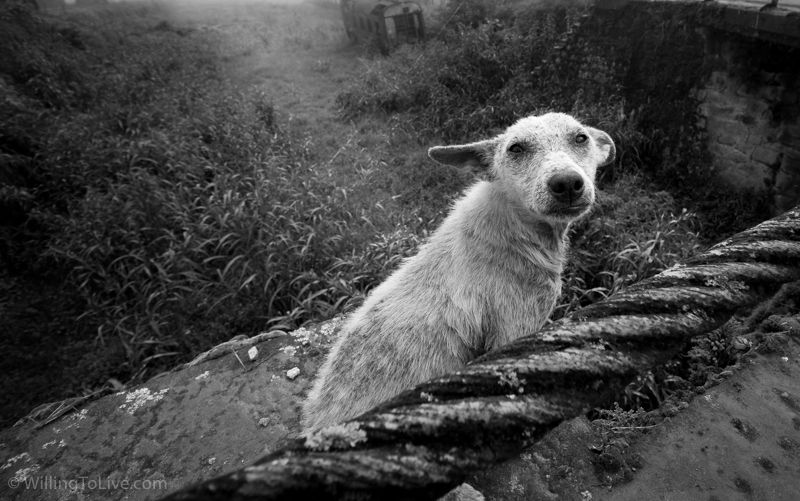 Imagine an old British style village that had its golden times some decades ago. A village built by a British railway company as a company town for its employees. The railway is far from what it has been, but partially works today and has a lot of history, old locomotives, and carriages around. Maybe you have already thought that you can create interesting images just with that, but there is one more thing…
There is one more layer of interest and mystery that can be added to our, so far, imaginary city. What if I told you that fog is extremely frequent there, on an everyday basis. Got the view? Old British village, with trains, fog… crazy mysterious place! But exists! It is Paranapiacaba!
It is a pretty unique place, right? Let's go and visit Paranapiacaba!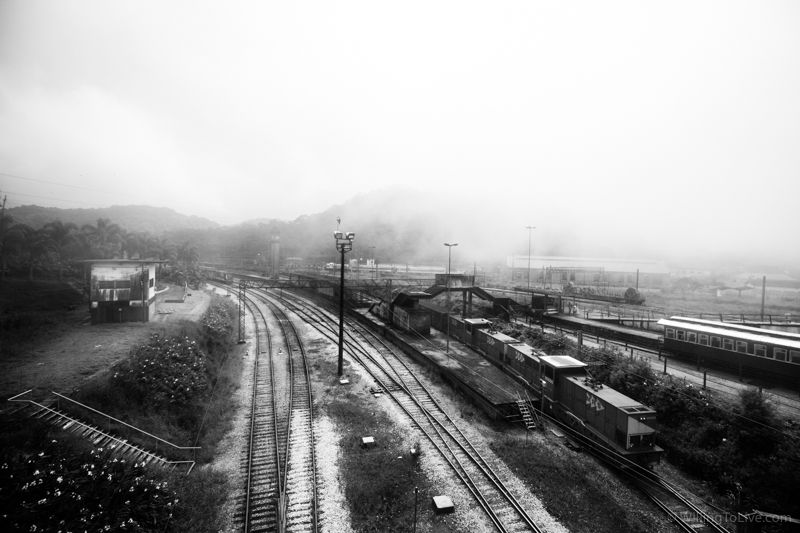 About Paranapiacaba and how to get there
Located about 60 km from São Paulo, in Santo André (Metropolitan region of São Paulo), the village is located amidst Serra do Mar forest, at the highest point of the area. The name Paranapiacaba means something like "the place where you can see the sea", it was created by joining some words in Tupi language (the language of the native Tupi people of Brazil): paranã (sea), epîak (see) e aba (place).
The city was established during the middle of the 19th century. The railway company that created it was responsible to transport people and goods, manly coffee beans, from São Paulo to Santos port. The city that was almost abandoned now is returning to prosper with tourism.

The easiest ways to get there is by car and train. Yes, by train! You can get the touristic train in Luz Station in São Paulo downtown, but just on Sundays. If you go by touristic train, buy tickets in advance, more details here. For more detailed instructions and alternative ways to get there, you can use Google Maps.
At the time I'm writing this, I've been there just once, more specifically to this photowalk with Click a Pé. But I will definitely come back there many more times to photograph and also enjoy some hiking and other tourist and cultural attractions. If you want to join me, please let me know.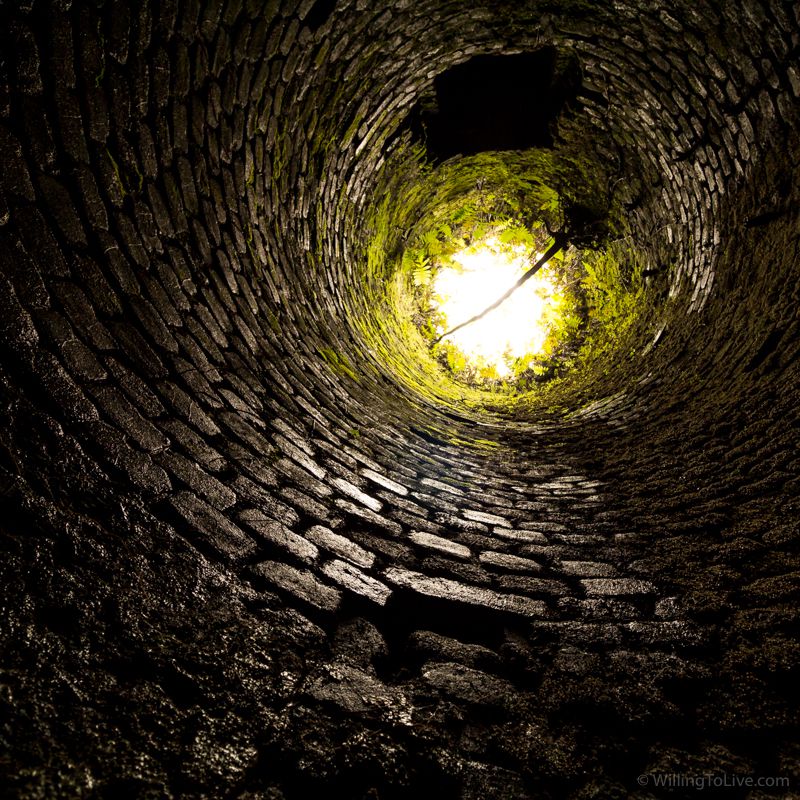 Photowalking in Paranapiacaba
As I said, I was in Paranapiacaba for a photowalk organized by Click a Pé. It lasted the whole day, so I will talk about the morning route and the afternoon route separately.
The city is divided in two by the railway. One part of the city is higher in altitude, so it is usually called "higher city", it has the church and also the cemetery. Want to walk inside the cemetery with fog? Uuuaaahahahahs… (malevolous and mystery laugh if you don't get it :) ) Too much for you? Or just fine? We did it, hehe.
The other part, you can call it "lower city", has museums, many old houses, and restaurants. It is the bigger part of the village. What connects both parts of the city is an awesome metallic bridge that you can see in a lot of photos from Paranapiacaba. Our meeting point was in front of Bar da Zilda in "lower city".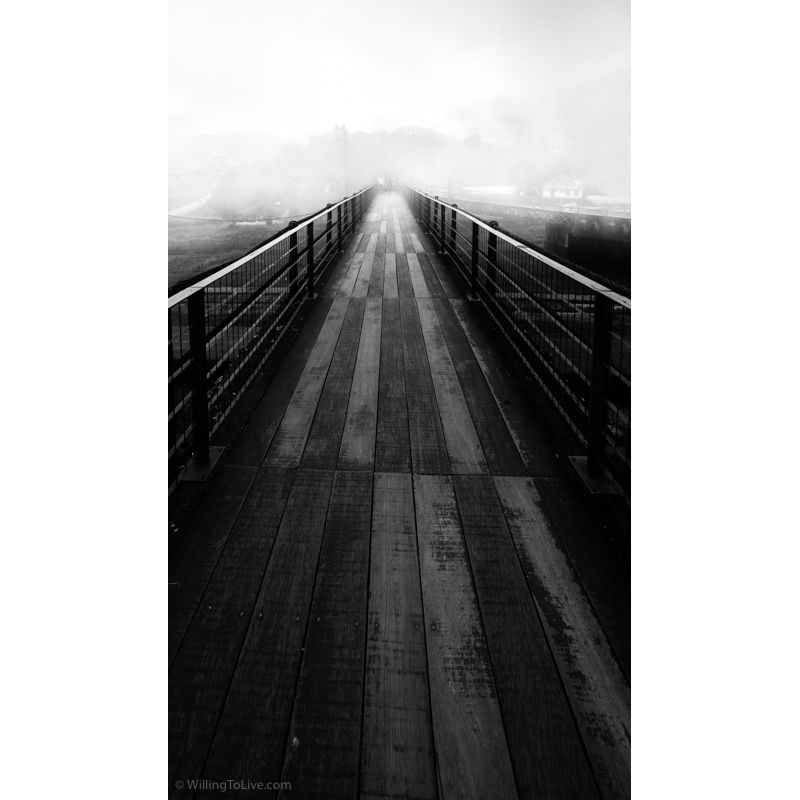 I had a personal goal for this photowalk. At that time, I was preparing myself for a mountain landscape photography workshop with Waldyr Neto to jump start my landscape photography in the place I like the most, mountains. So, after a long time without new gear, I decided to buy a wide-angle lens.
So, for this photowalk, my goal was to photograph just using it. This was my first try with the lens and a good way to start to practice with it before the workshop. A wide-angle lens would also help me for other photowalks, mainly in small spaces and for architecture photographs.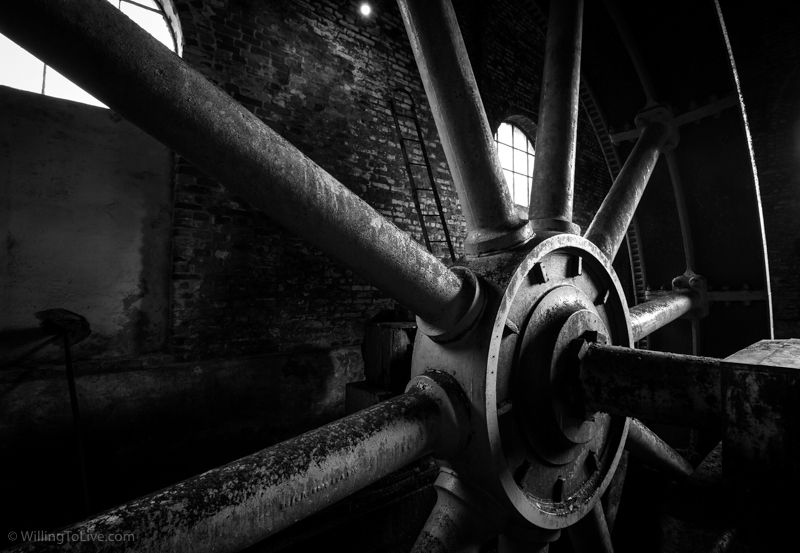 Paranapiacaba is a very black and white place. You will see that a lot of the photographs I've made there is in black and white. The fog, the contrast, the textures and the mystery context helped me choosing this style. When colors don't add, why should you have them?
Morning
When the photowalk started, we decided to go to the opposite side that the main group was going. They went to the "lower city" and we went to the "higher city".
Why? Because there was a lot of people for the event, a lot of people, we thought that the streets were not that big to accommodate that much of people while also allowing us to photograph as we wanted to. So, I won't be able to tell you what the guide that was with the group explained and showed about the village, but I can show you some photos with fewer people. It is a trade-off, right?
So, there we went first to the "higher city". The approximate route of the morning walk is shown below on Google Maps.
During our morning walk, we saw a man sat inside something like a balcony of a colorful house. He had a very distinctive look. Portrait time! If you have already read my first photowalk in São Paulo downtown, you know what happened there about the portrait of the worker.
Yes, now is my turn. Labate liked the idea of the portrait but was not very comfortable asking him for a portrait, so I did. Actually, it was pretty easy, he just said yes, looked at us and we took our photographs.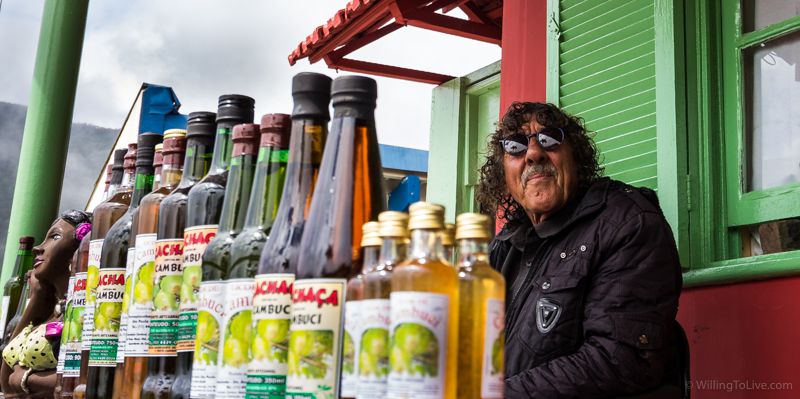 It was very different to take a portrait with a wide-angle lens, you have to get so close and it still has the subject small in the frame hahaha. Just be cautious about how close you get, otherwise, if you get too close, you will cause some facial deformation. Lenses like that can make the face looks strange if you get too close.
So, I also added some of the environment surrounding the man (environmental portrait). Maybe he was selling cachaça made with Cambuci. He was not very talkative.
During the walk, we also visited the church and the cemetery hehehe. Lots of fog during our visit to the cemetery hehehe… Yes, it is strange to take photographs of a graveyard. I was looking for conceptual shots, just the mood of the place, not exactly who was there or the details of the tombstones. I think this should be preserved. Let them rest in peace, right?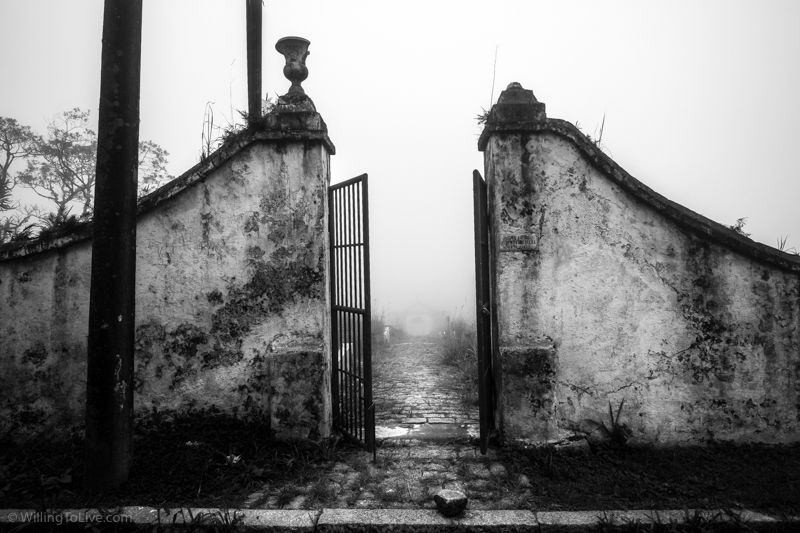 After that, we made our way back to the "lower city". We walked there, made some photos of the houses and tried to find a waterfall that someone said that existed near there. We found it! But, it was a pretty small waterfall, I even think this is not the right word for it, it was too small for a waterfall hehehe.
We walked a little bit more through the city and started to look for a restaurant to have lunch.
We spent about 2 hours and 15 minutes for this morning walk.
Afternoon
We went first to Estação Cavern Club restaurant (Av. Fox, 525), a local recommended it. It seemed to be a very good place, but also expensive, so we looked for another one, hahaha. We had lunch in Estação do Sabor (Av. Antonio Olyntho, 485). Nice place, good food, and reasonable price.
After that, we went to Museu Tecnológico Ferroviário (in English it would be like Railway Technological Museum), the main attraction of the afternoon photowalk. It is quite big and it is not just an indoor museum.
There is a lot to explore there like old trains, all the machinery and buildings used in the funicular system and so on. But you will need permission to photograph there. That day, Click a Pé helped us with it.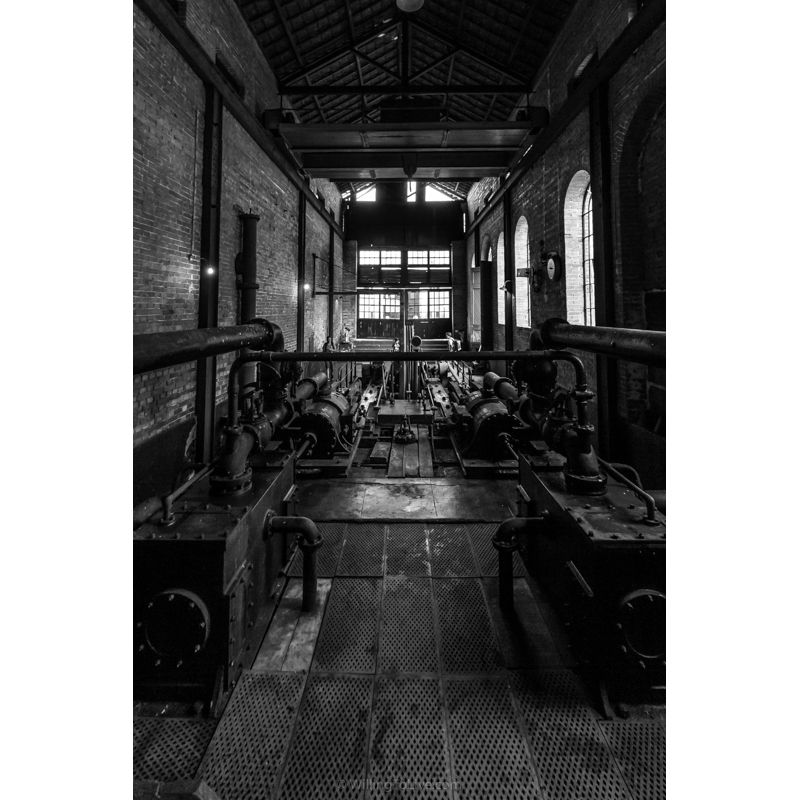 Labate was the first one to spot this view below, but I also got an image after him :)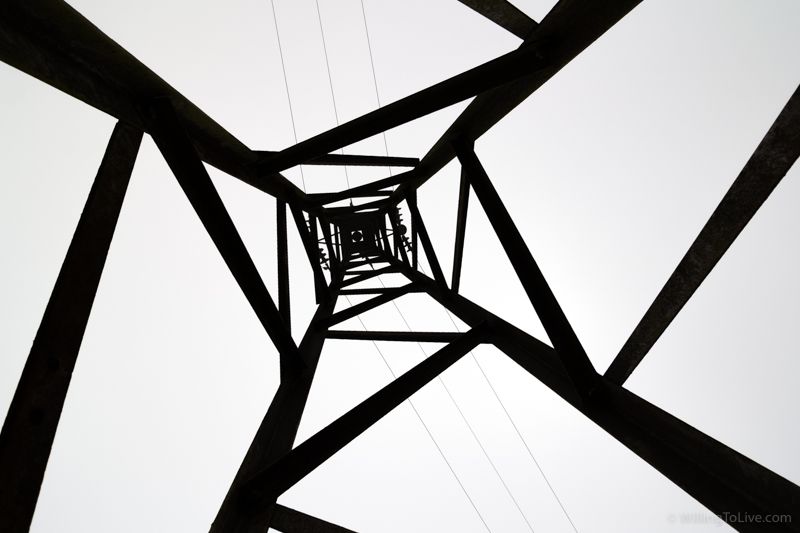 After about 2 hours and 15 minutes (wow, same time as moring photowalk, it was not on purpose), it was time to go home.
We have chosen to go by car to have the flexibility to enjoy the fog that usually happens at the end of the day. But that day we had fog almost all the time, since the start of the morning photowalk until when we left the village, the fog was coming and going away, coming and going away… Luckily just fog, not rain.
Final notes
It was a very good day. I discovered a new awesome place the way I like the most, photowalking. I also met some friends and tried a wide-angle lens for the first time. It was very strange at first, but then I got used to it and at the end, I can say that it was a great experience and I was happy with the results and also with the addition of it to my photography kit.
Is it safe to photograph in Paranapiacaba? Well, I went there just once. But as far as I have observed that day, I have nothing to say against it. I was very comfortable walking with the camera there, even when we were in a small group.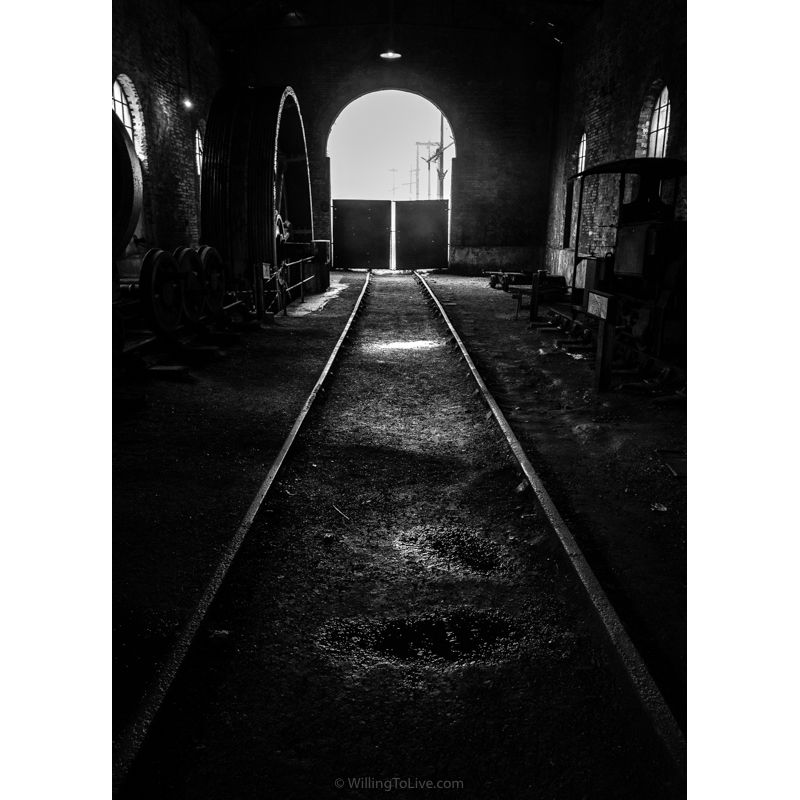 The fog was very impressive. If you want to shoot with fog, trains, old and abandoned stuff… This is your place. Not just for photowalks, but for portrait sessions too.
Have you enjoyed the visit to this very typical place for photowalks and photo shoots? I loved it and there are a lot of things to do there. I'll be back! ;)
I think you will like those similar posts too:
More similar posts at the end of the page…