Portraits with photographer Paulo Fridman in downtown São Paulo
We love days like that. When we are surprised in a positive way, when we enjoy great moments learning, creating and discovering more about the downtown of our own city, well, for this photowalk, we discovered more about the people in São Paulo downtown.
Yeah! It was a photowalk focused on portraits!
Do you know why?
Because who led the photowalk was Paulo Fridman in an event organized by Sesc Parque Dom Pedro II.
A photographer widely known like him generates some expectations, right?
Do you think that he was nice with us and was there willing to help, to teach and to tell more about his portraits?
Let's find out! :)
Ops! Just one more little thing before moving on… By reading this article, you will already learn some of what Paulo taught us. But if you want to know everything we've learned that day, I've made a very easy-to-reference pdf listing everything and that you can follow the step by step instructions for your next portrait.
Click here to download all the portrait lessons we've learned with Paulo.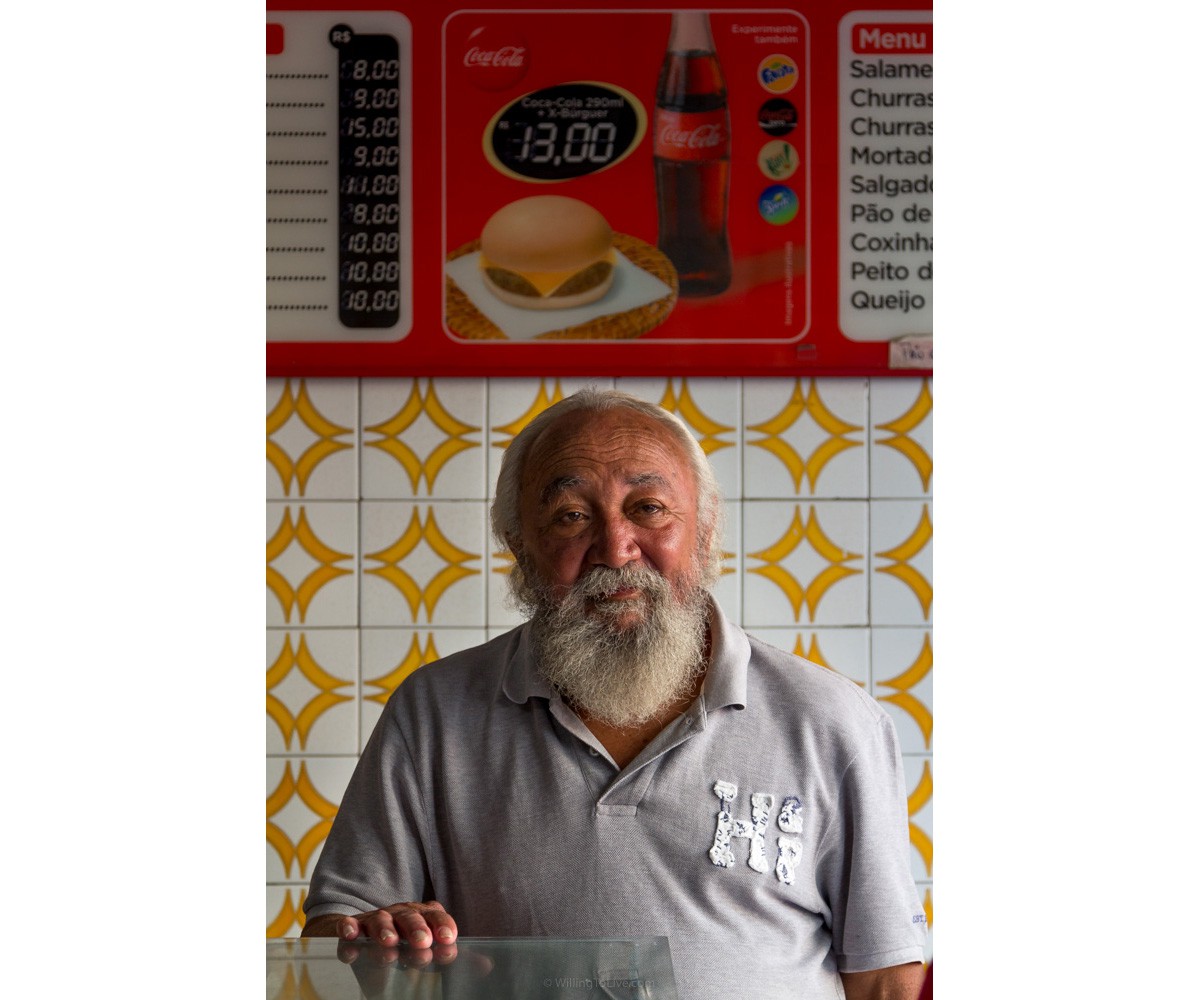 Before the photowalk
In fact, it was more than a photowalk, it was an event organized by Sesc Parque Dom Pedro II within the schedule of an exhibition called "Lá e Cá – Trabalhadoras e Trabalhadores do Brasil" (I would translate it to you like: Here and there – Male and female workers from Brazil) with photographs of Brazilian workers made by Paulo Fridman and curated by Diógenes Moura. The exhibition presents man and woman in their work environment, showing the reality of their work in day by day situations.
Our day was divided in three, the exhibition, the photowalk and the photos review. Let's start with the first part.
When I got at Sesc there were some friends already there. After we have been very well welcomed by Débora, that works for Sesc, she told us more about how the event would be and we enjoyed some chatting and also saw some of the photos of the exhibition. There were a lot of photographs!
For the first activity of the day, we sat in a circle with Paulo that welcomed us and asked us to say a little bit about ourselves and also what we were expecting from the event.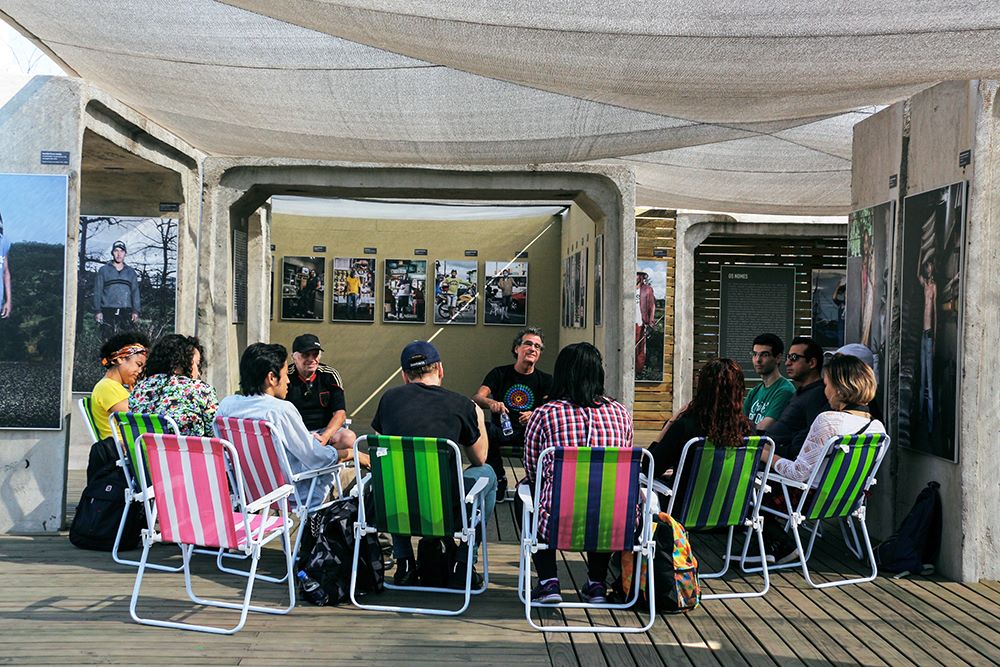 It was really nice to know more about the others that were with us, what they have done, why they have started to photograph, their photography preferences and so one. Paulo was already using what we were talking to start to teach and give advice, showing that he was there to be helpful to us since the beginning.
After our initial talk, it was his time to talk about himself and after that, he asked us to join him while he talked more about some of the photographs from the exhibition.
He explained how he has made his photos, he told us the stories involved to create them, and he was really open to questions and willing to answer them. It was really an open and very useful conversation about many of his photographs.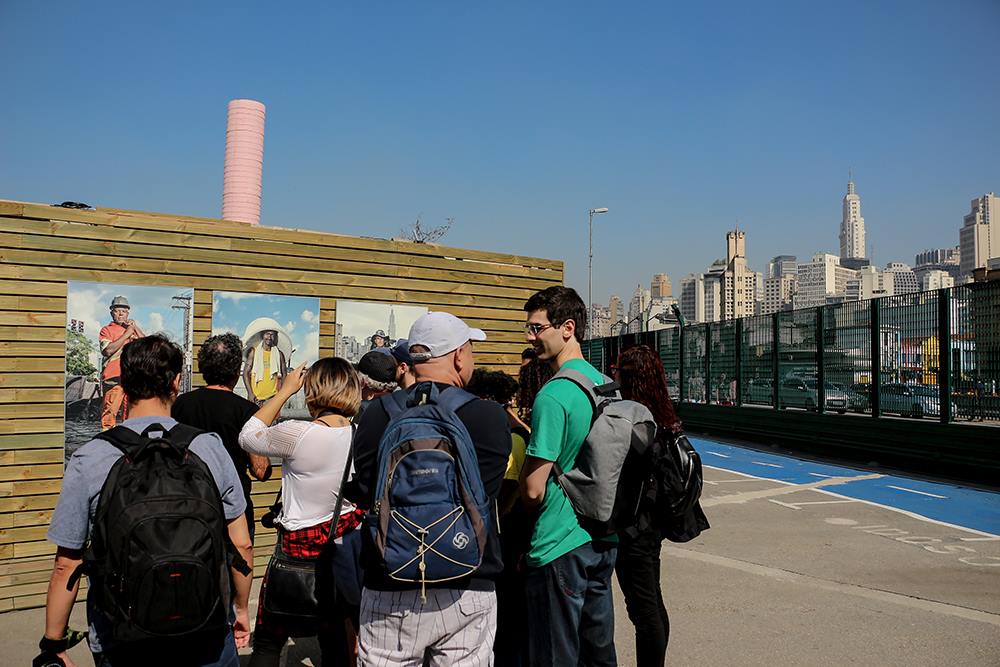 One of the stories was about an authorization of a young boy that was a juggler at the traffic light. As he was too young, Paulo and his team needed to get the authorization from his parents. Many attempts were needed to try to find the boy again, because they could not find his home with the address the boy has given to them when they first met during the photograph.
When they finally have found the boy on the streets again, they tried to schedule a meeting with his parents, but they have not shown up. After some more talks and negotiation with the boy to gain his trust, the boy finally took Paulo to his home to talk to his father. Not an easy conversation, but it worked and now we can see his portrait at the exhibition and also in the book \o/.
Next step, the photowalk!
Our route of that day was this one:
Let's see how it was…
Photowalking for portraits in São Paulo downtown with Paulo Fridman
It was a short photowalk (1 hour), but it was intense and full of learning.
Along the walk, we met a few characters of São Paulo downtown and, of course, made some portraits of them. During the photowalk, we were accompanied by two security guards from Sesc.
The first character we met was just after leaving Sesc, the car watcher (the person who watches over cars on the streets in exchange for money) that Paulo already known. He was nice to us and let us take some photos of him doing his thing together with cars passing by.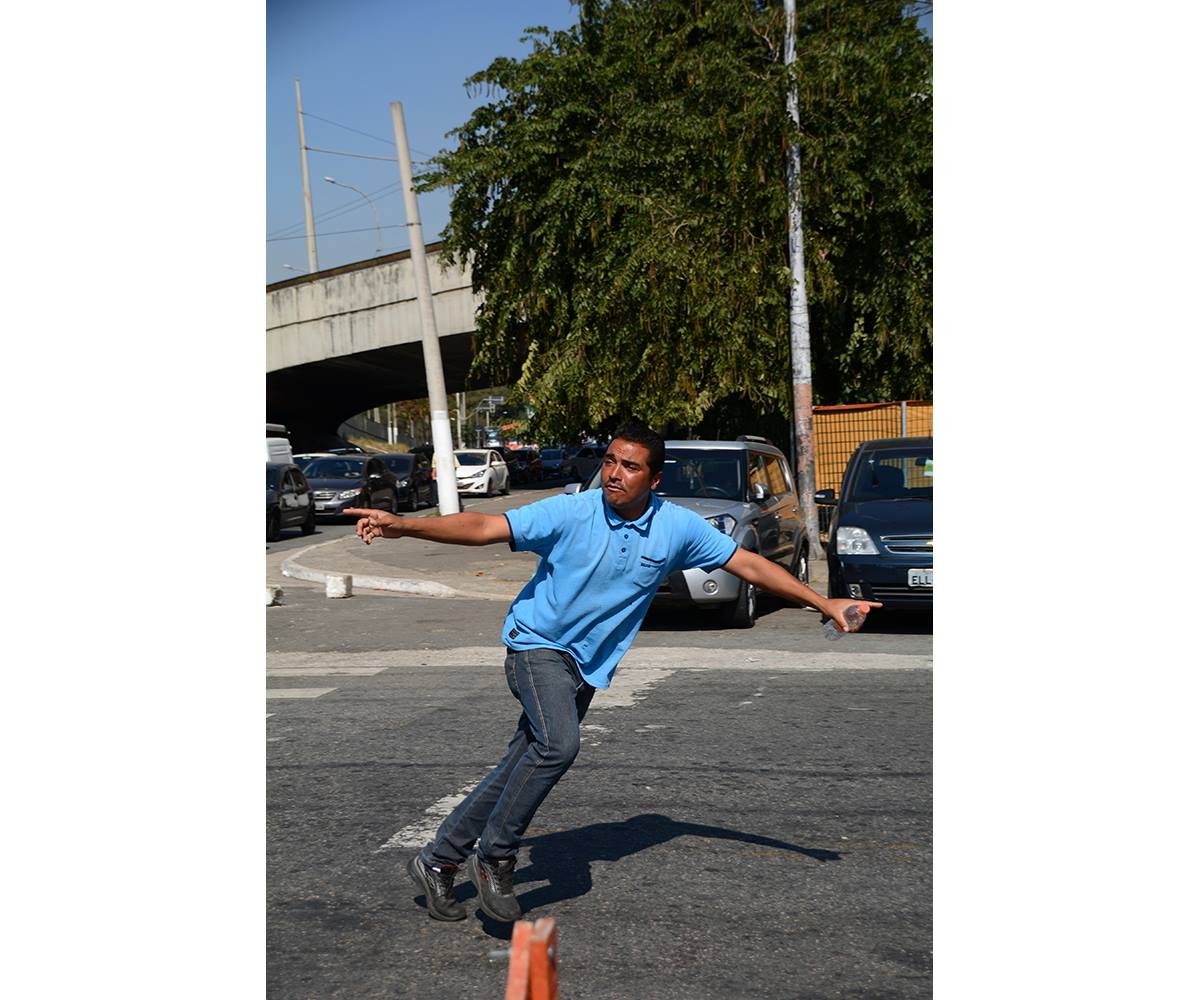 Crossing the avenue, we got to a calmer street. A little bit further, many of us took some portraits of a guy at a car body shop that was nice and let us photograph him.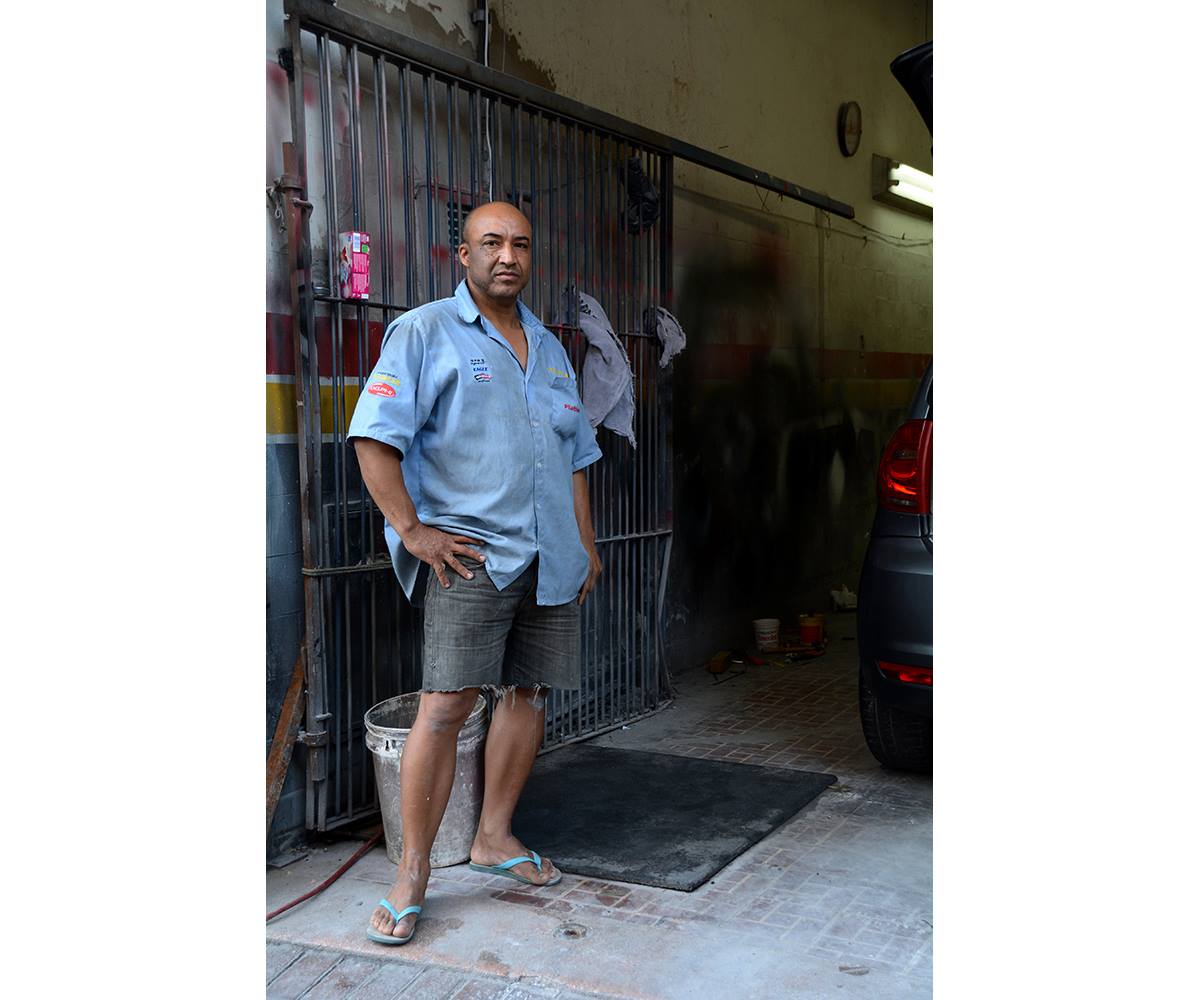 After walking a little bit more, we saw a woman that accepted to be photographed. She was with a shopping cart full of things. At this time, Paulo took a portrait of her like the ones we saw at the exhibition. He called his assistant to position the lighting and made some shots of her. It was really great to see how he does his portraits. Do you want to know what we've learned with Paulo that day? Click here!
After we have got to the next street, there was a man coming. He had a distinctive look and he was also carrying some yellow plastic bags with fruits and vegetables on both hands. He caught my attention, but he was a little far from us at that moment.
While I was still looking to the man with the yellow bags, Paulo came and said to me that there were coming two interesting guys over the other side of the street. Then I turned and looked at them and started to think how I could photograph them. At the same time, Paulo also said something like "it is just a suggestion, don't worry". He was nice and just trying to help :).
I was willing to try anyway, but when they got closer, I noticed that one of them I had already taken his portrait before and then I gave up for that portrait and then remembered about the man with the yellow bags.
When I turned again to the other side of the street, Paulo was already talking to him and asking if we could photograph him, \o/!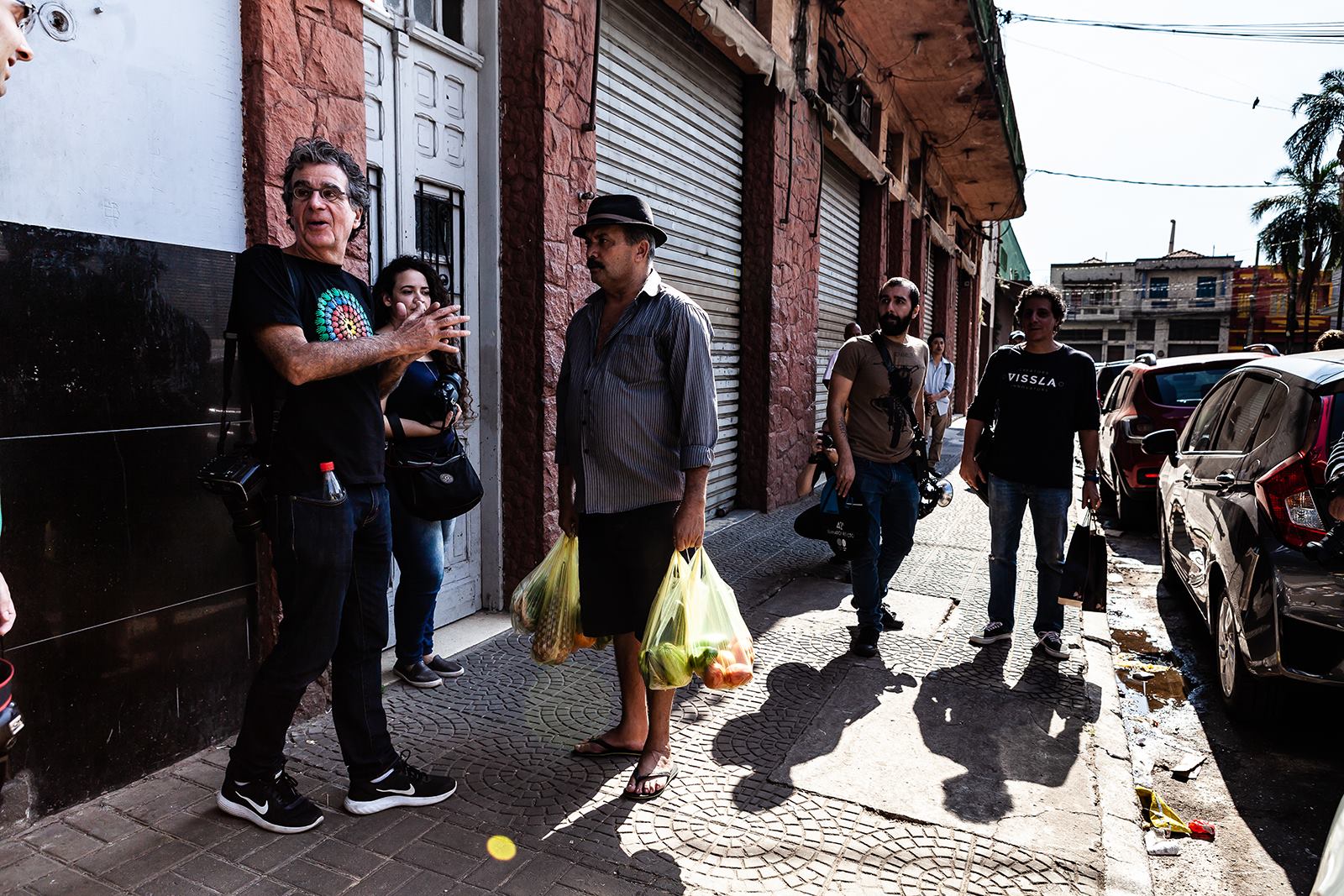 Yes. Paulo was helping us all the time. He was making us notice some interesting portraits to make, stopping and asking people if we could photograph them and also teaching us how to do it. He was really open to questions and willing to answer them. It was a really great time.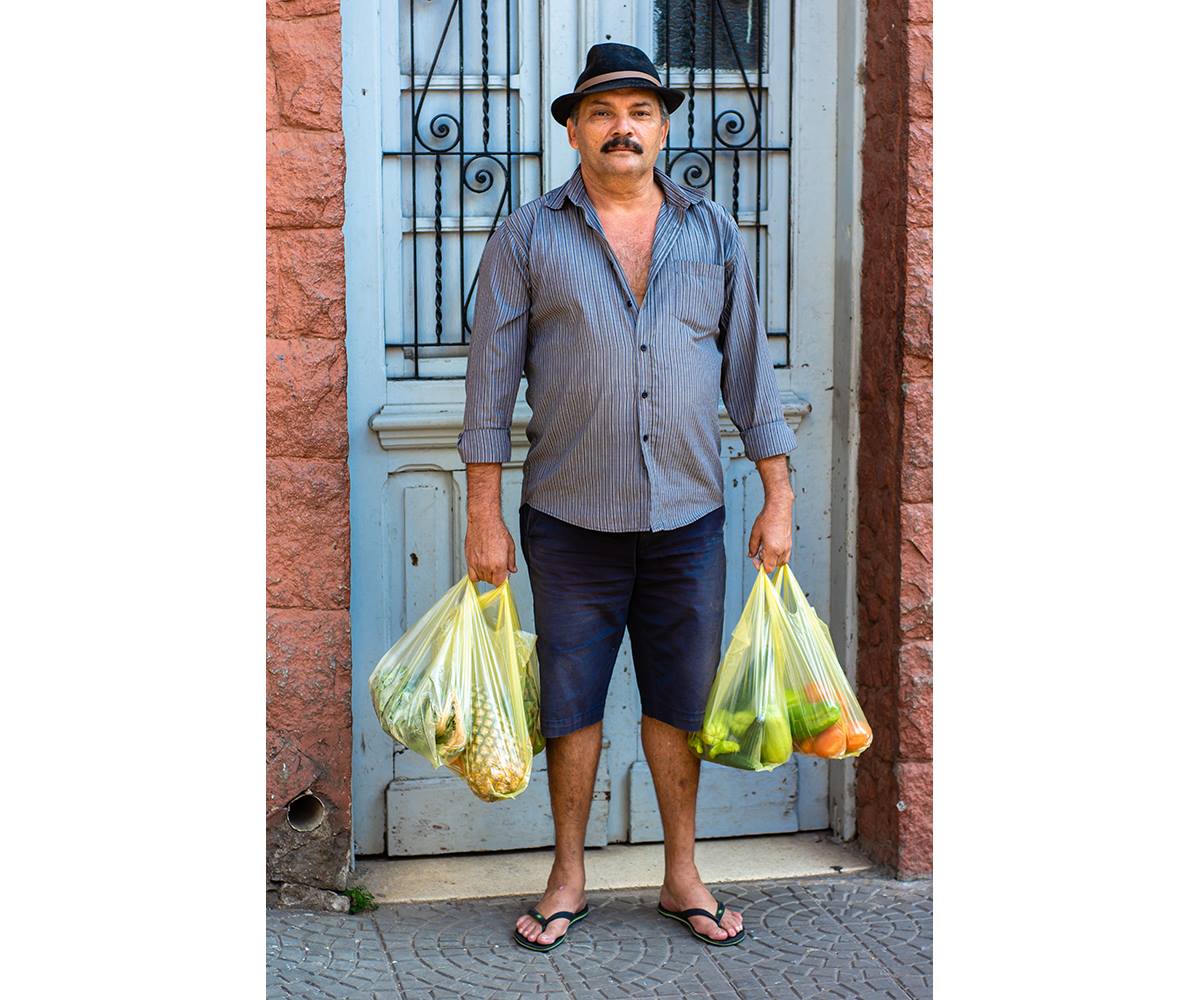 It was not over, let's keep photowalking… :).
Some more steps ahead, there was a snack bar. In front of it, a man with a colorful combination of gloves and clothes and also in an interesting pose caught my attention. It also seemed to be a good opportunity to avoid the hard light of the midday.
When I tried to ask him for the portrait, he didn't like the idea, hahaha. No problem :). It was not the first time and also won't be the last time that this kind of thing will happen. I just kept going, there was more interesting stuff there.
Others of our group also came to the snack bar and we asked to make portraits of different people inside it. They liked the idea :) and we enjoyed some more portraits.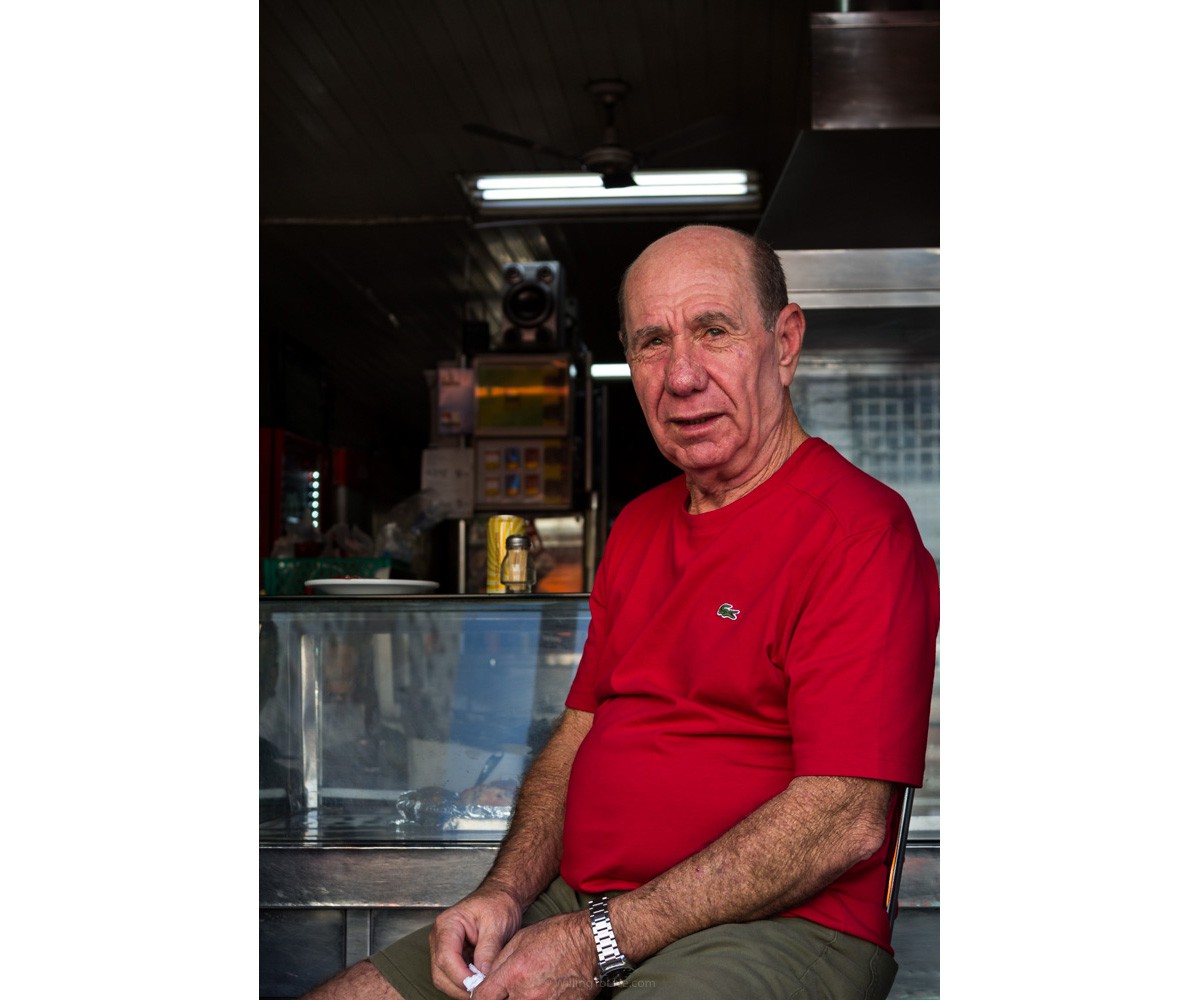 Actually, not everybody asked before taking the shots and this led to a little issue.
There was a big man, called Marreta (Sledgehammer), in the snack bar. By his name, I think you can guess he was a big and strong man. One of the girls took a photo that he has appeared and he noticed it and he didn't like it.
He got out of the bar and went to the sidewalk where our friend was doing her shots and where I also was at that moment. Hum… How can I say that… Let's say he was almost politely using his size and mean face to make him be listened and to be taken into consideration hahaha :P.
The girl carefully listened to him (hihihi), deleted the photos and tried to explain what had happened and also to apologize. A little bit of tension took place, but it was going well. So I also take the chance to get another portrait of another man in the snack bar. The one you saw at the beginning of this article :).
See how things can be… After deleting Marreta's photos and so one, he said that she could photograph him, but only If she asked before doing it. So she did and so he accepted.
She took him to the other side of the street (despite the lighting, the colors were better) and took his first portrait.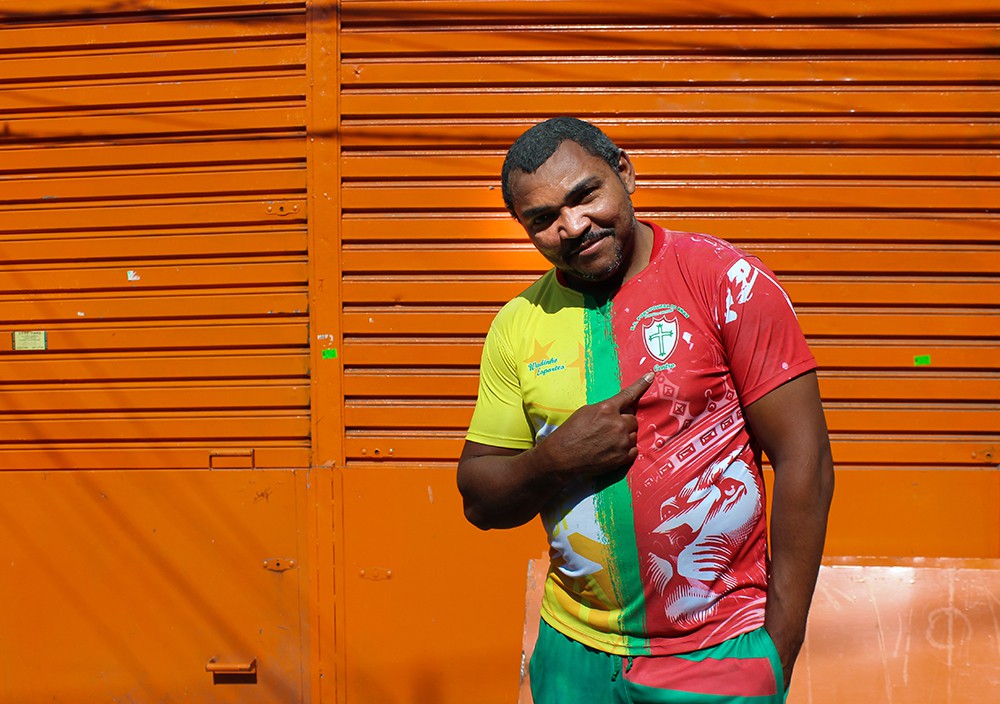 I said the first portrait because suddenly he was like the next street portrait star in our photowalk.
Others also wanted to photograph him. Paulo asked him to pose for us standing in the middle of the street in a beautiful reflected light by the metallic trunk of a parked truck.
He was skeptical at first. I also tried to help, explaining to him why we would like to have him in that spot and why that light was good. Not sure if he understood, but I think he got the idea that we were not having fun of him or taking advantage of him and we were just trying to get the best shot we could get from him. So he accepted.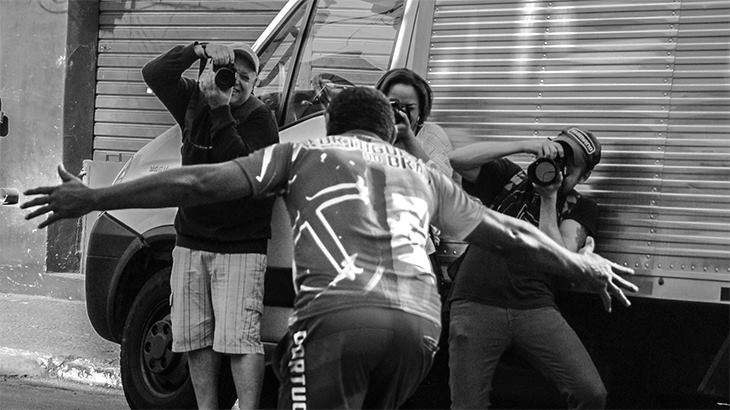 Hahaha. Then it was the moment that everybody wanted a portrait of him hahaha :). We have lined from different directions to photograph him and he has done different poses for us hahaha.
As he was standing almost in the middle of the street, the first car that came he let it passes because he was still positioning himself. But the next car, he made a gesture with his hand saying, "stop and wait for them took my photo" :P. Funny Marreta and we kept shooting. Soon after, he let the car passes, of course.
So awesome, everybody was having fun, including him :). As you can imagine, a very distinctive moment for a place like that caught the attention of the rest of the street too.
After Marreta's portrait that stopped the street, the other guys over the next stores were also enjoying and wanting to be photographed too hahaha. They were saying that they would be on TV and that kind of things hahaha :P. It was like a little party for them and for us.
But our photowalk was already near the end. On our way back to Sesc, apart from more photographs, Paulo also bought some tangerine to share with us during our lunchtime.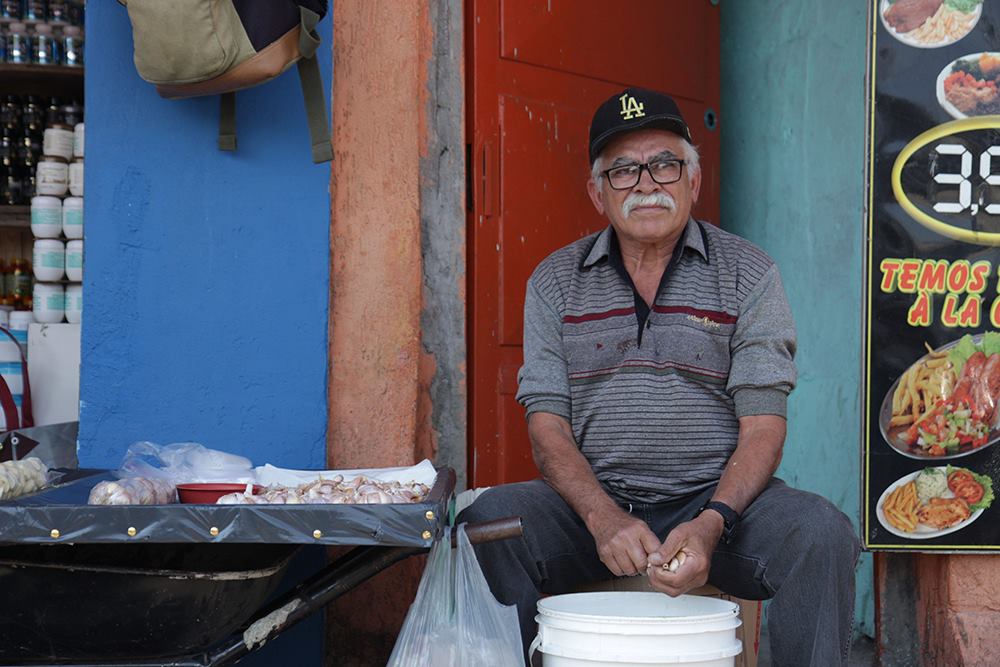 When we arrived at Sesc, we have a break in our schedule to eat and we also talked a little bit more while it. Then, we were ready for the photos review.
Photos review
During the final part of our day, we went to a special room so that we could do the photos review. Each of us chose 2 photos to be reviewed.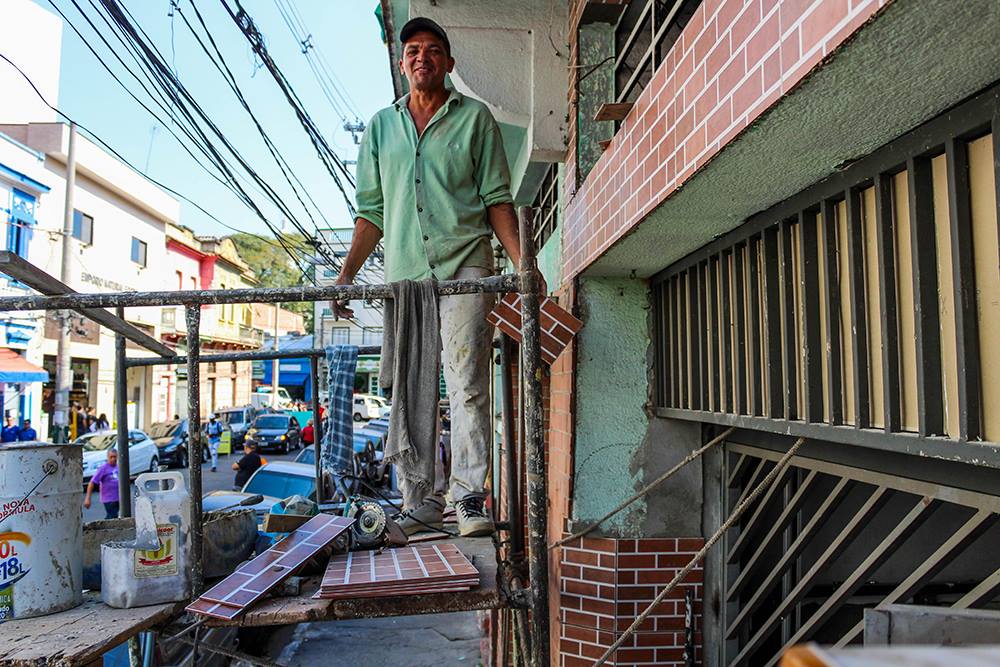 While the photos were being transferred to the computer, Paulo opened for questions. We talked about a lot of things, including our 2017 book :). People made questions and he and his team helped us.
During the review, we saw the images one by one in a big screen (TV). For each one, Paulo was commenting about what he liked and also suggesting improvements and what could be done in post-processing. I love to hear good feedback and improve \o/. Do you want to know what we've learned? Click here to get the pdf with a step by step guide that you can use in your next portrait.
Just one more thing…
Before finishing this post, I would like to point out an interesting thing that Paulo said to us about one of the things that makes a good portrait.
One of the things he taught us that day (the full list you can get here) was about making the person to be photographed to be present in that place at that time. To really participate in the portrait, to trust. The look that he/she is fully there, right now, for your photo.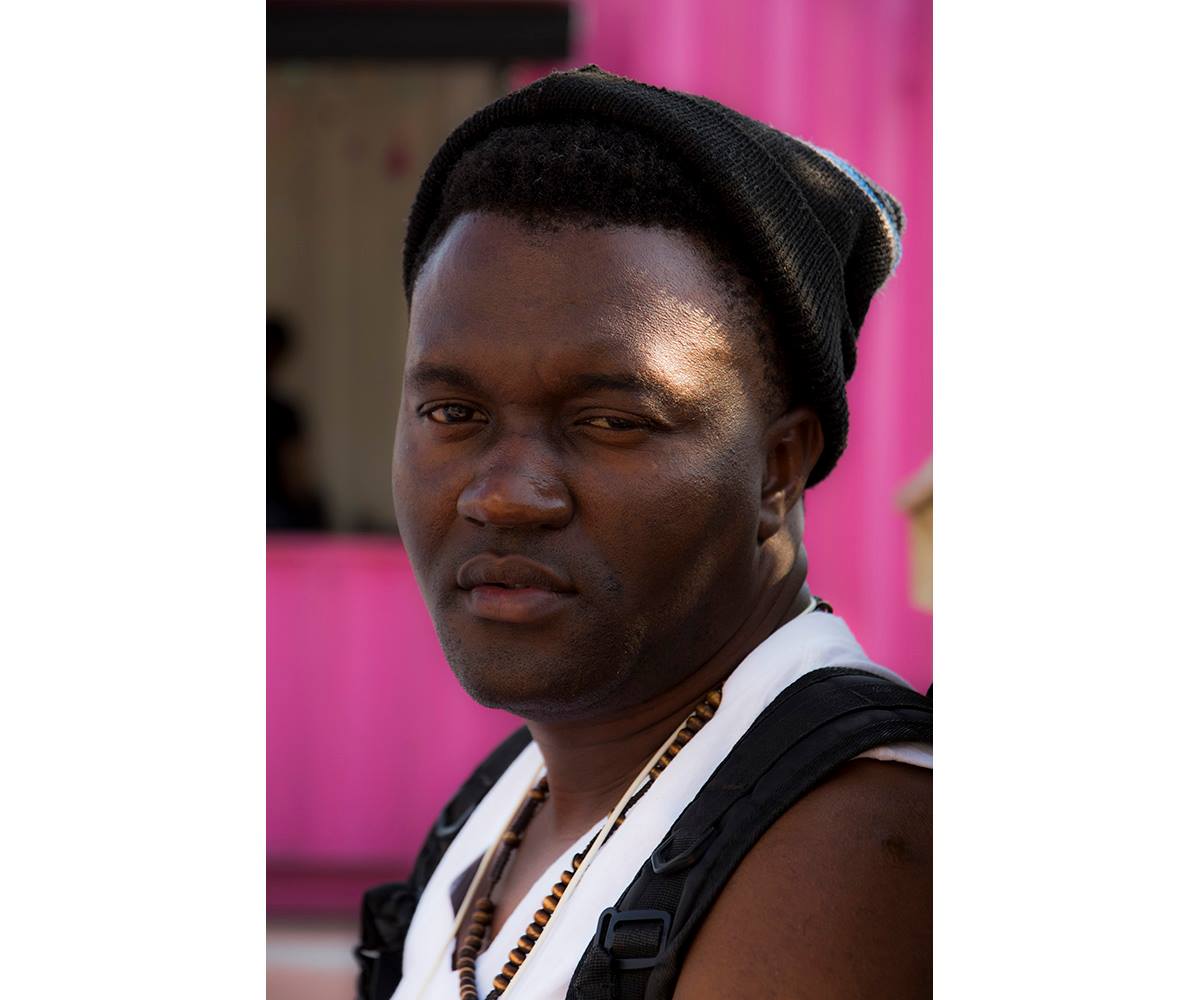 Why do I think this is especially important?
Because that is the kind of sensation or feeling ("be present") that I seek for myself when photowalking, this is what I feel during the best photowalks.
It also seems to be around in any photography field, not just for portraits, and not just for what is being photographed, for the photographer too. Actually, not just in photography, for our lives as a whole too.
When I say about this kind of thing like here, here, here e here (all links will take you exactly where I suggest you to read), I'm not just saying beautiful things or just to look good or just for the sake of saying it. This is what happens and this is what matters to me. I think this is why I do all this stuff. I want more moments like this doing something I really like.
This kind of thing also reminds me about the flow state, mindfulness, meditation, and also contemplative photography (Miksang or Mindfulphoto) that I've discovered with Yuri Bittar.
I'm still studying those things. I want to learn how to reproduce it better and how to get to that state more quickly and easily. It seems to be the root of what I feel during my best photowalks. I hope to be able to help others with this too in the near future.
Maybe, besides getting a good portrait, the way to enjoy the process of getting it (not just the result) is also to be present. Both being present.
Well, something for you to have in mind and to think about…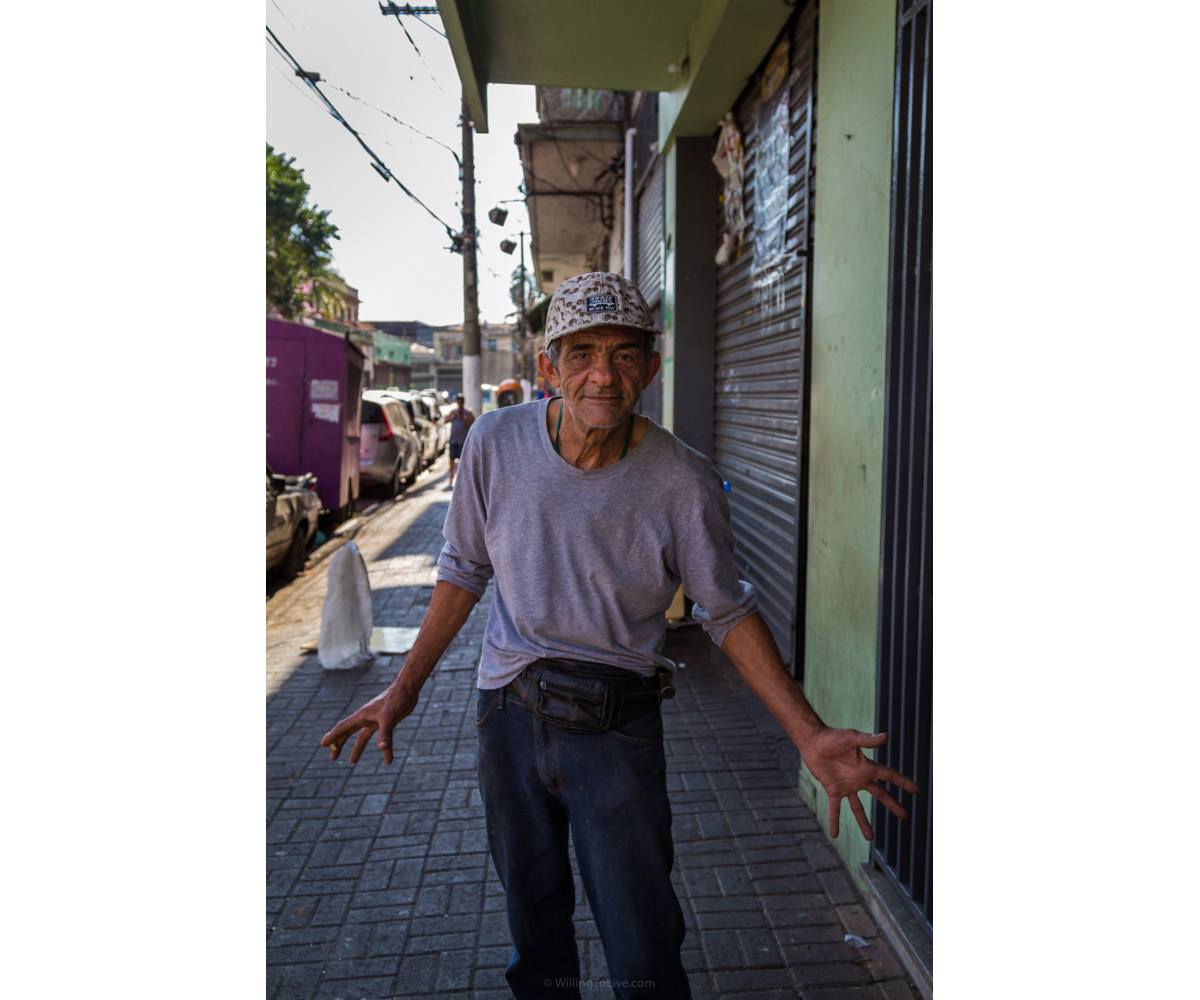 Final Thoughts
I love novelty. Mainly when it is something that adds and makes me grow. This photowalk was really like that. In addition, portraits generate a lot of stories. That is really nice too!
We had an excellent day with a great photographer, his team, and many friends. Thank you all! And I would also like to thanks Débora and all the others involved from Sesc for organizing this event. We really appreciated that.
We had such a good time learning, creating and discovering more about our own city downtown \o/.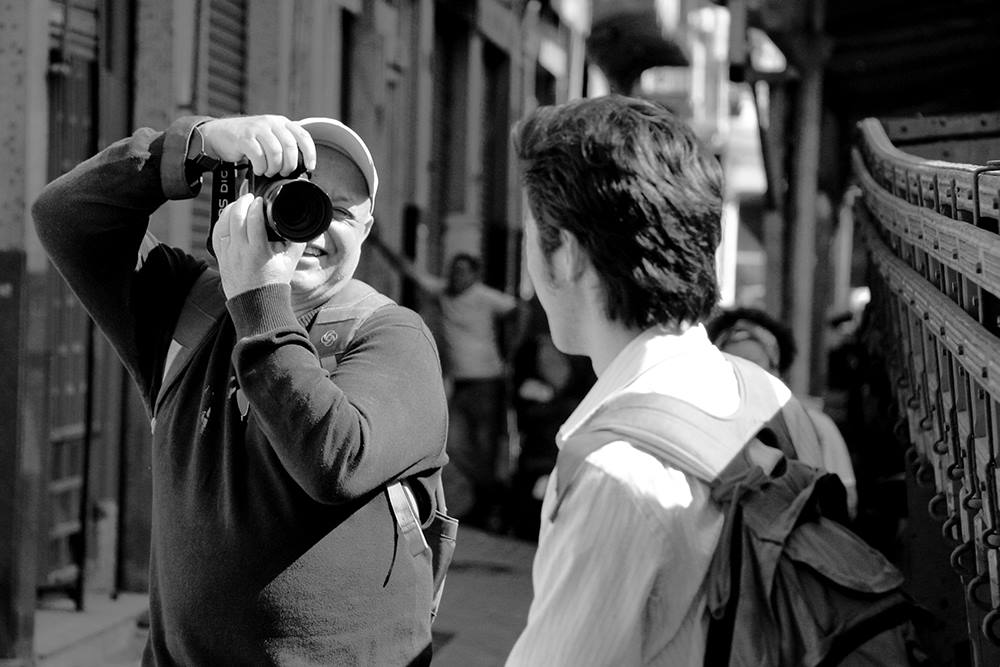 I think this event also sets the beginning of my interest in portraits and to start to add them to my photography.
If I want to discover the world by photographing it, besides the cities, streets, buildings, and natural places, people also play an important role. Right? So let's do it!
Are you interested too? If so, your next step is to get the pdf with everything we've learned about portraits with Paulo that day. Get it here!
I really appreciate your time reading my post. Thank you ;) See you soon…
I think you will like those similar posts too:
More similar posts at the end of the page…