My first photowalk, São Paulo downtown in Brazil
Are you tired of photographing everything you can possibly imagine at home? Are you willing to experiment new photography styles? Maybe just visit a new place? That was my mindset when I started to photowalk. After one year photographing everything at home or that can be seen from our house, I needed to try something new. But a piece of the puzzle was missing to start a new era in my photography.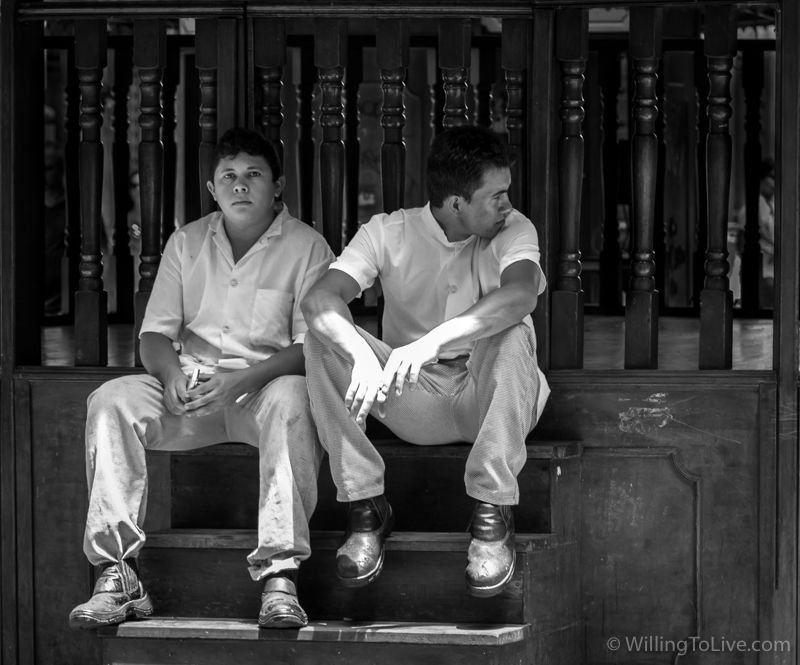 In 2013, I had no idea what a photowalk was. Truly speaking, I didn't know that this kind of thing existed. But my friend Jama told me about it and I liked the idea. At that time, I couldn't imagine how it would impact my life some time later. Actually, that was my first and only photowalk for a long time (2 years). You know, life gets in the way sometimes.
I was a little skeptical about going for a walk in São Paulo downtown area. Isn't it a crappy place and also dangerous? What am I going to do there?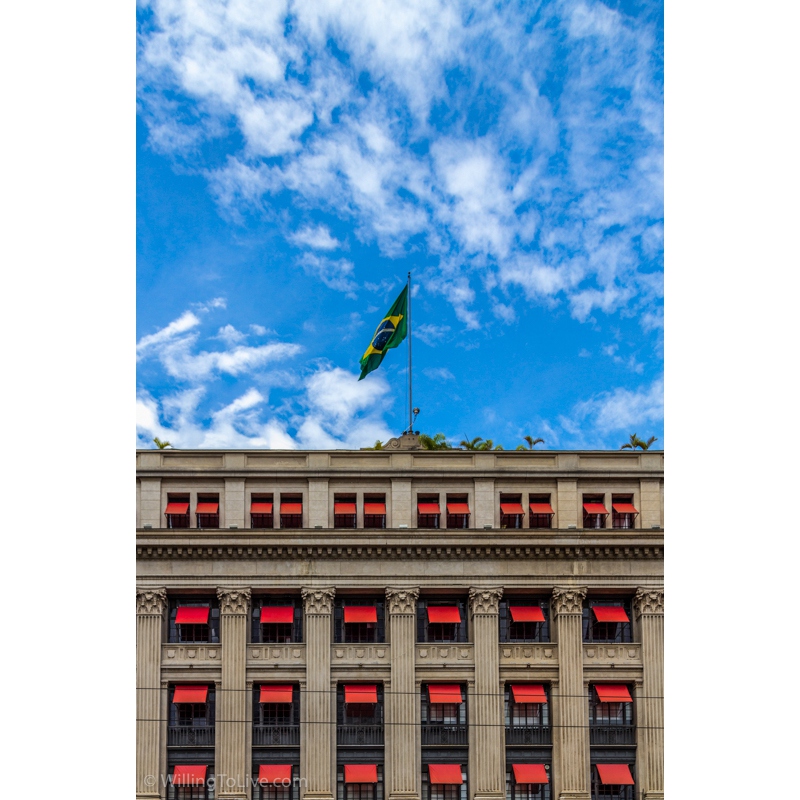 But, at the same time, it was a good opportunity to meet a friend, visit a region of my city that I barely known, and also try to photograph something new. So, I went. Yes, today's photowalk was my very first photowalk \o/.
Let's remember this photowalk together! :)
Route
This photowalk was organized by André Douek, at that time it was called Jornada fotográfica. He organizes photowalks since 1996. Yes, long time ago. I don't know anybody or any group that organizes photowalks older than that.
The photowalks (now FotoJornada) are free, happen monthly, and usually in groups of dozens of people that go for a walk in some neighborhood of our city.
The photowalks are not that much focused on life experience, enjoying your moment or visiting places you don't know. The group is more photography oriented as André describes its purpose as "photographically document the tangible and intangible heritage of the city of São Paulo and its inhabitants". I like it anyway.
André also has some extra activities like a photography study group and you can have your work reviewed by him too. To know how to support the group and join their extra activities, click here.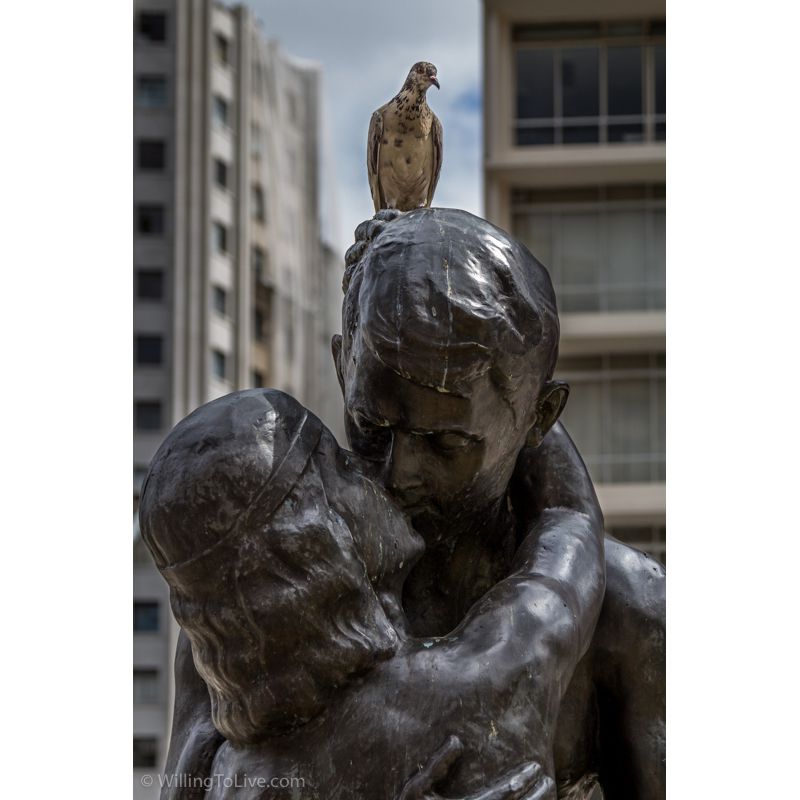 For this photowalk that I am talking about here, the idea was to document our city during 24 hours and make the images available on the web in real time. Why that? Well, it was the birthday of our city! So, André created a special event to celebrate it :).
The meeting point was at Telecentro Olido, in São João Avenue. During the 24 hours of the event, small groups would leave Olido hourly to a photowalk returning about 3 hours later. When arriving, you would be able to publish 3 of your photographs using Telecentro computers. You were also free to go in multiple photowalks if you want to. This was the plan, but in reality, it was a little different.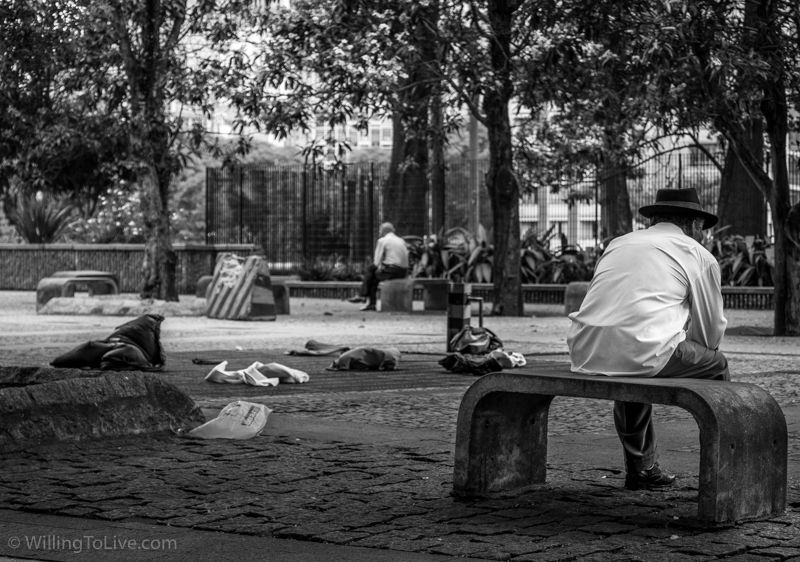 When we got there, there were a small number of people that left a few minutes after we have arrived. We were expecting to join a group of maybe 10 to 20 people, but that was not the case.
André has prepared some photowalk suggestions. You could do it or not, it was up to you. As it was a 24h our event, he was not leading the group on the streets, so people were arriving, choosing where to go and leaving.
While we were thinking about our route, another man, Anselmo, came and started to talk to us. We decided to go freestyle. We walked through downtown area as we wanted to, with no specific route in mind or made beforehand, we just needed to be back at Olido in about 3 hours. I didn't know anything about São Paulo downtown, but both of them do. So, it was fine.
Our route was as described below and to complete it, we took about 2 hours and 45 minutes.
At the end, we had lunch in a restaurant near there. Thanks, Anselmo!

The walk
At first, I was really afraid of taking my camera outside my backpack. Even after they started to photograph, I spent some more minutes just looking without photographing.
But some minutes later I was more comfortable and started to enjoy the walk too. No incident happened. I don't even remember being frightened or intimidated by anybody at any moment after I started to photograph. It was a really nice and calm walk. Much better than expected. But always go for a photowalk in a group, ok?
During the walk, a couple was having some trouble with their camera to take some photos of themselves. They saw us photographing and asked for help. While Anselmo was helping the man with his camera, his wife (I think) sat down and looked the same way as the statue. I thought this moment deserved a photo :).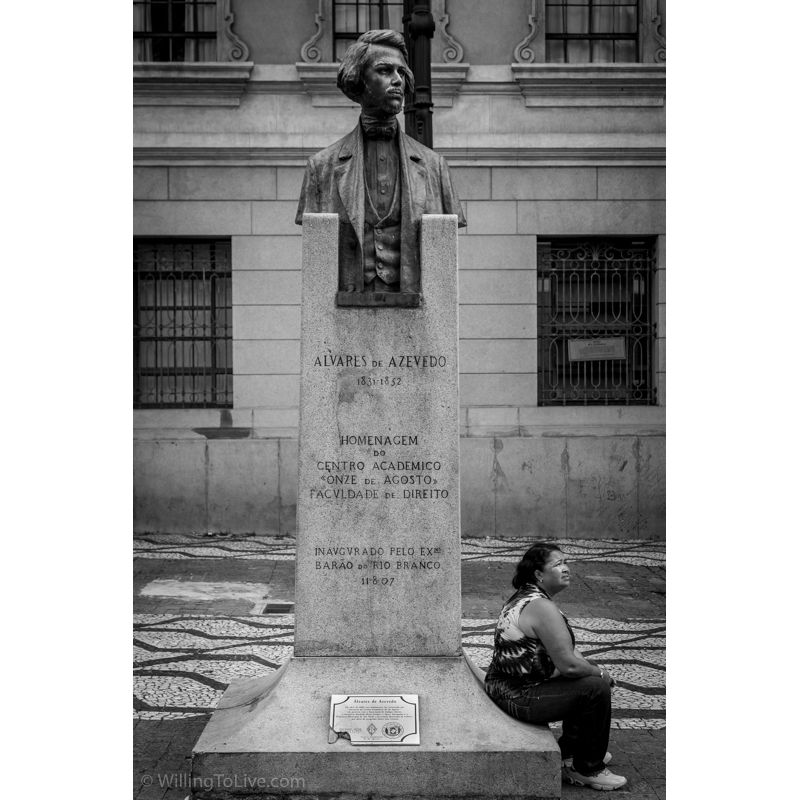 What can you find in the downtown area? Well, like any other downtown area, there will be lots of buildings and a lot of people. Some people were just passing by, others were working. There are some (or many) abandoned buildings, but some of them are really well maintained and are incredible. São Paulo can be beautiful, trust me :).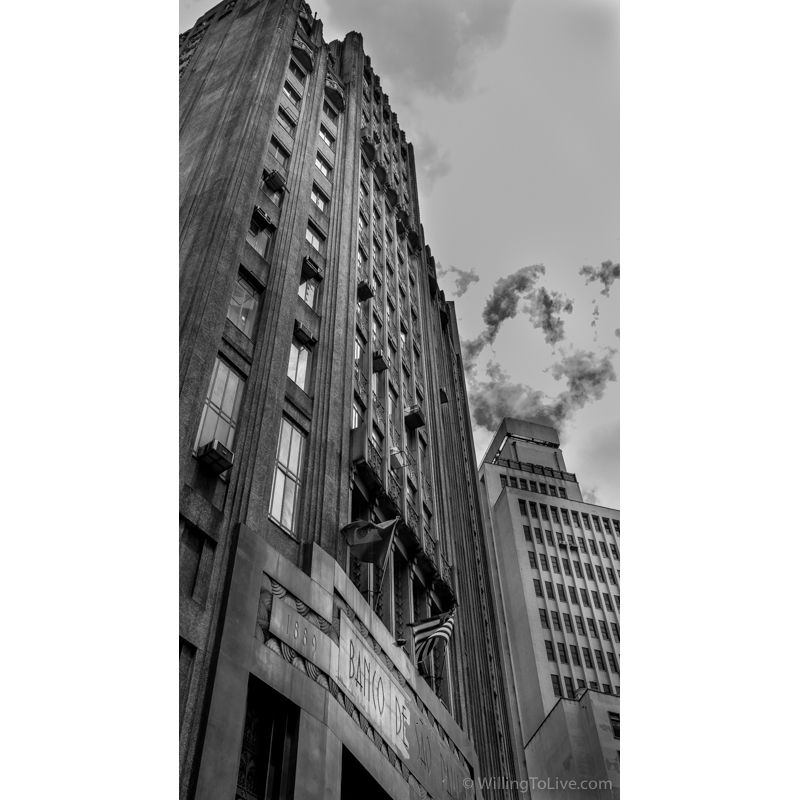 One thing that caught my attention during the walk: doors. There were amazing doors along the way. I didn't know that doors would be a nice subject to take photographs. Really interesting discovery haha. Still today I look for interesting doors to shoot.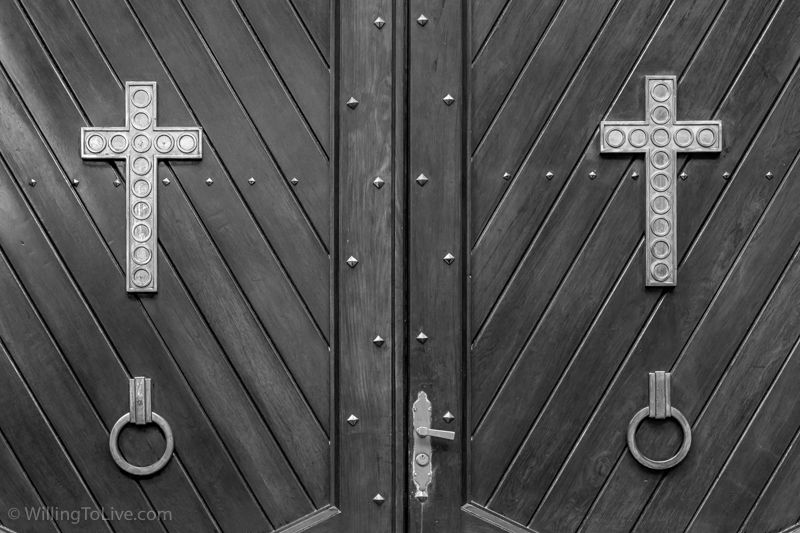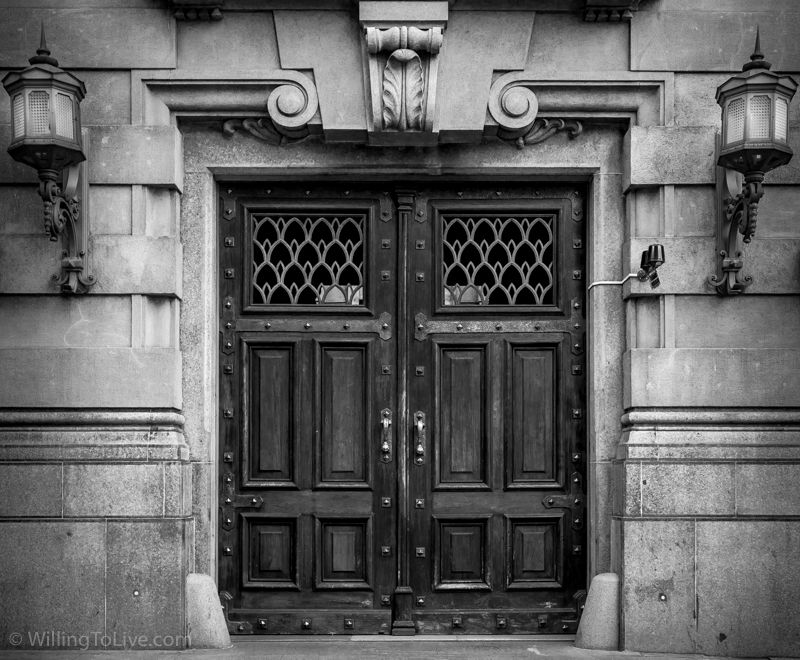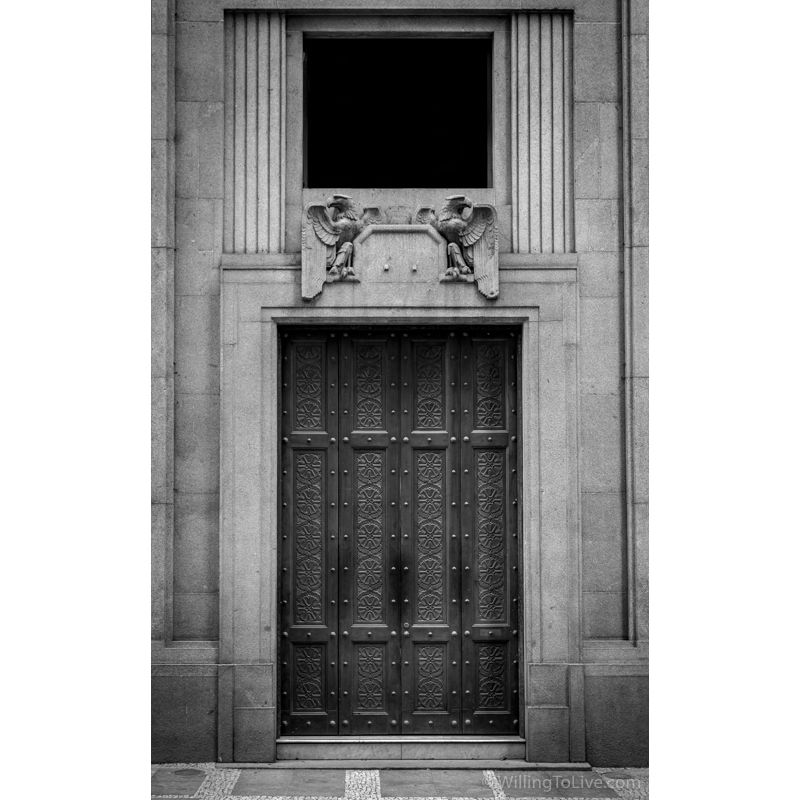 Along the way, we also saw a man working, he was building the sidewalk. It seems that we could get an interesting photograph of him, but at that time, I would not have asked the worker for a photograph. Thankfully, Anselmo did :).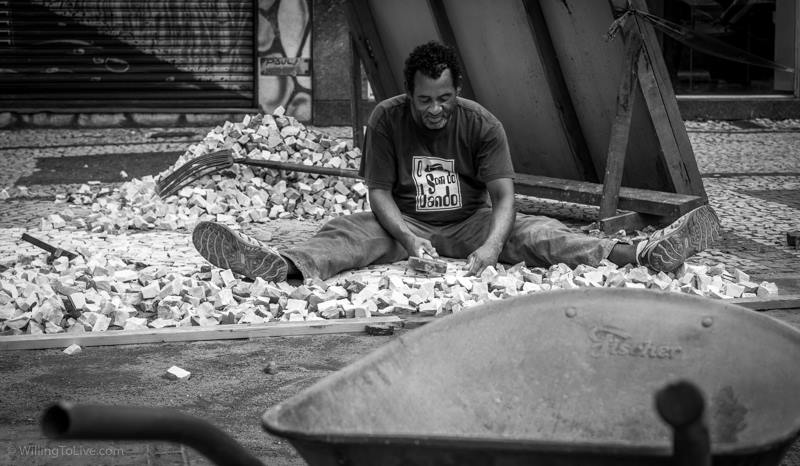 Recently, in Paranapiacaba, it was my turn to ask a stranger for a photograph while others were afraid. It does not hurt to ask somebody if you can take a portrait of him or her. Just ask. With time, we practice and evolve. If you don't feel comfortable to do this kind of thing right now, keep practicing and trying. I still need to practice it too, I'm a shy guy.
In one of our stops, we tried to go to the rooftop of Banespa building. We just tried… It had an incredibly long queue that would make you wait 2 hours to get to the top. So, we gave up. But the hall has an awesome chandelier. It was worth it to stop there just to see the hall, for sure.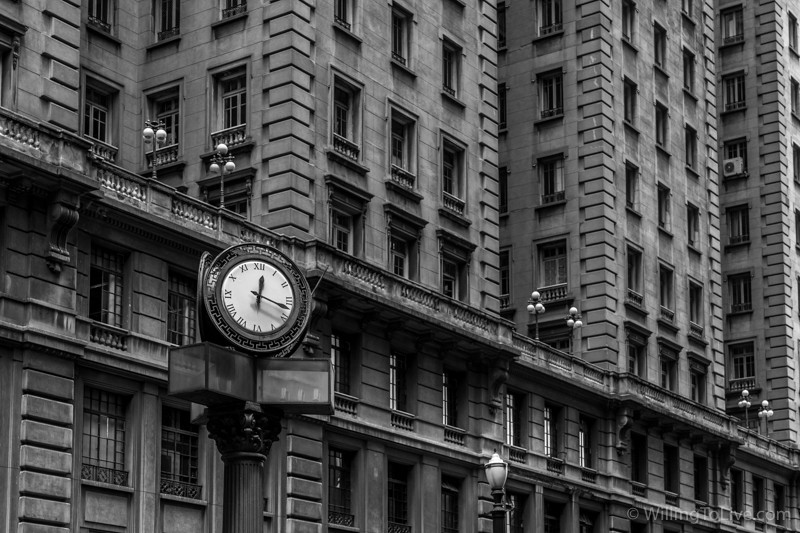 I think my own crazy city inspired me that day. I was photographing just for one year and some of the photographs that I have done that day still makes me smile today. Also, I didn't make that many photos, but many of them were good enough. This ratio is really not common.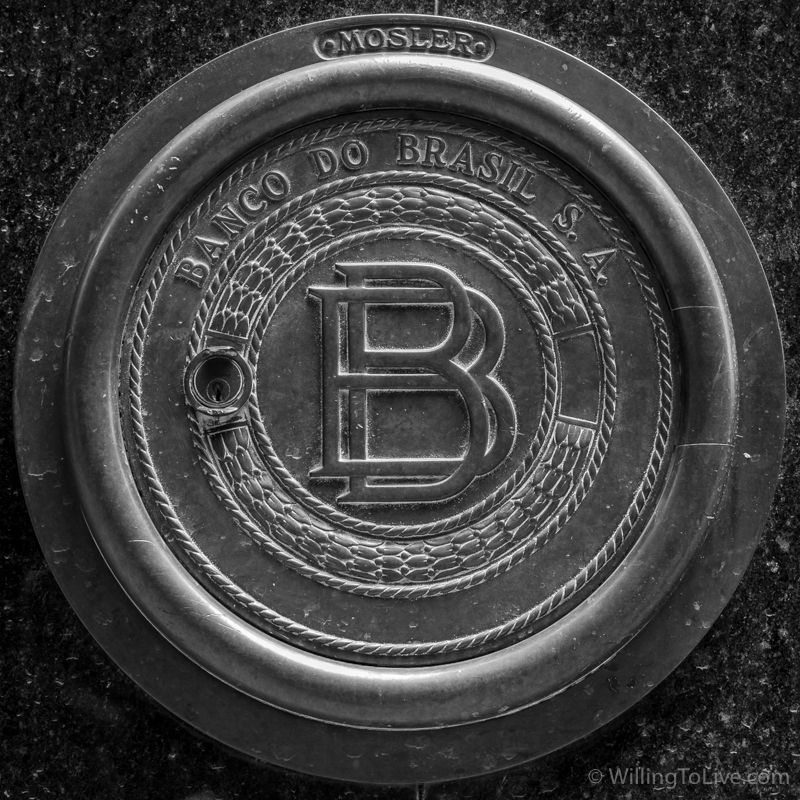 Are you curious about the photo above? I was! But Guilherme Fré solved the mystery. He searched and found that this was a safe for night deposits. There are several of them in the downtown area! Interesting! I will hunt them on my next photowalks there! It will be fun \o/
Got it?
This photowalk opened up many opportunities for a lot of new cool stuff that photography could bring to me and also to you. I tried for the first time some street and architecture photography, started to lose the fear of photographing on the streets, met an old friend and also made a new one.
Ok, it is still not that safe in downtown, but really far from being a crappy place. São Paulo downtown area has a lot of problems, but it is packed with lots of history and very beautiful old buildings. There is a lot to photograph there.
I'm glad that I've discovered it and also very thankful for Jama and Anselmo for showing what a photowalk was and also guiding me through the unknown streets of my own city. Thanks ;)
Ow, I miss this photowalk, I need to do it again. January 25th is coming… Is somebody out there willing to go with me?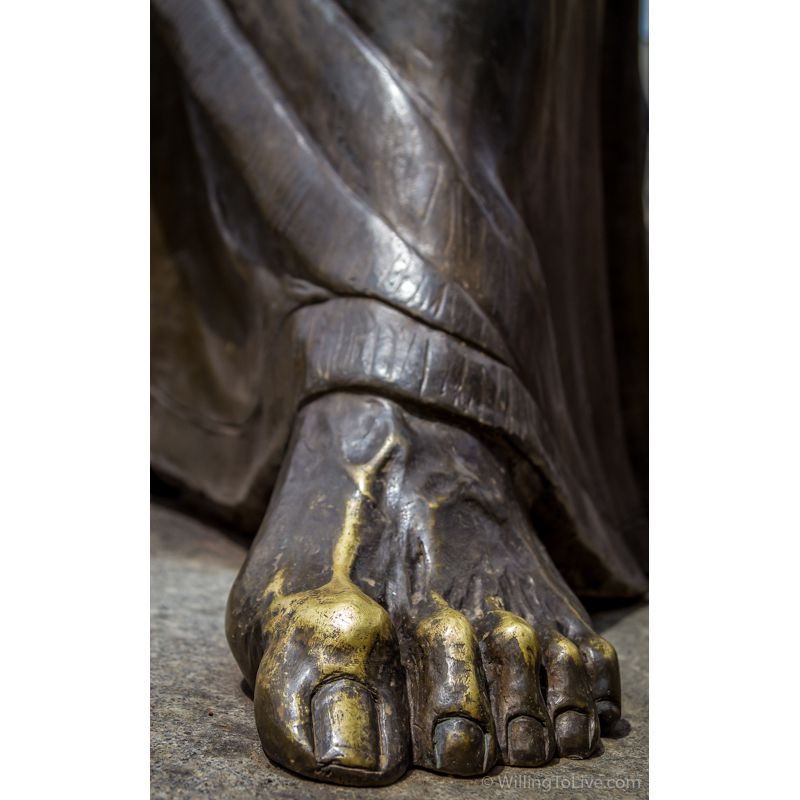 I think you will like those similar posts too:
More similar posts at the end of the page…